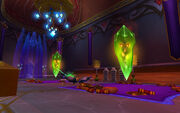 The Hall of Respite is the dwelling of the Blood Elf Magisters found in the Royal Exchange of Silvermoon City. [87, 74]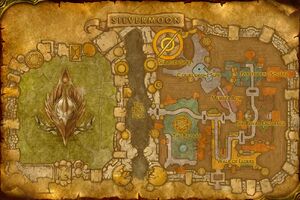 Interconnected to the hall is the Silvermoon Jewelery.
The hall appears to be some sort of relaxation "bar" (hence the name 'respite') where blood elves can satisfy their arcane magic addiction. Two fel crystals are seen floating above mats with teapots and cushions placed all over. A Blood Elf Magister can be seen periodically drawing energy from it.
NPCs
Patch changes
Sometime between patch 4.0.3a and 4.2.0 this area was given its own subzone.