The Halls of Lightning is a five-man wing of Ulduar in the Storm Peaks.
The Halls of Lightning is located in the eastern part of the enormous titan city of Ulduar. Here the treacherous Loken — a fallen servant of the Pantheon and former prime sentinel — mass-produces iron vrykul on behalf of his dark master's sinister plans. Loken himself guides his forces from his throne, guarded by storm elementals and fire elementals with his most powerful servants and commanders near his side.
From the official site
The reasons for Loken's treachery and the fate of the other guardians remain a mystery, but there have been whispers of a great evil at work behind the fall of the titan city. For any heroes brave enough to seek out the truth, it lies within the corridors of the ancient compound. Thus far, however, few have braved the perils of Ulduar and returned to tell of their discoveries.[1]
Dungeon Journal
Upon departing Azeroth, the titans entrusted loyal protectors with safeguarding Ulduar, an enigmatic city nestled in the mountains of the Storm Peaks. Designated supreme among his brethren was the guardian known as Loken, but with the power of the titan complex in his hands, he turned to darkness and plunged the region into chaos.
Geography
Maps and subregions
Dungeon denizens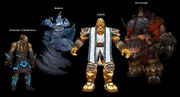 Bosses
Encounters
| Bosses | Monsters |
| --- | --- |
| | |
| | |
| | |
| | |
| The Terrestrial Watchtower | |
Loot
Main article: Halls of Lightning loot
Achievements
Quests
Videos
Patch changes
References
External links

World of Strats
 Halls of Lightning instance guide