Hammer of Justice
Hammer of Justice

Hammer of Justice

Level 5 paladin ability
10 yd range
3.5% of base mana
1 min cooldown
Stuns the target for 6 sec.

Usable by
Class
Paladin
Properties
School
Holy
Cooldown
1 minute
Other information
Level learned
5
Improvements

[

Fist of Justice

]

,

[

Jurisdiction

]

Related debuff

Hammer of Justice
Stunned.
Duration: 6 seconds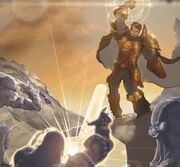 Justice in Azeroth is in short supply, but merciless when it does arrive.[1]
Hammer of Justice is a level 5 paladin ability. It gives the Paladin the strength to stun a hostile target for up to 6 seconds.
Improvements
Tips and tricks
Useful to allow you to heal without interruption or to flee. This stun is one of the most flexible in the game, as it will not break due to damage or other spells being cast on the target, nor does it cause any amount of threat when used.
It cannot be used on a target that already has a Hammer of Justice stun active.
Most bosses and some high-level mobs are immune to Hammer of Justice.
Trivia
Gallery
Patches and hotfixes
See also
References
External links