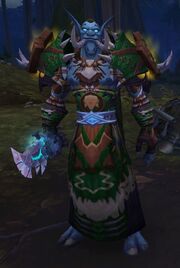 Hanzabu is a Zandalari troll located at the Zo'bal Ruins and the Necropolis in Nazmir. He is a worshiper of Bwonsamdi.
Abilities
Cull the Soul
Dark Visions
Soul Harvest
Soul Reveal
Stealth - Puts the caster in stealth mode. Lasts until cancelled.
Quests
Quotes
On-click
Greeting
I have much more to do.
What do you want with Hanzabu?
Greetings, outsider.
Pissed
Free advice: NEVER make a deal with a death loa.
Move along, before I use your soul to pay back my debt.
Farewell
Watch ya self.
Tread carefully now.
Do not lose your soul.
Dialogues
...
Gossip
Zo'bal Ruins
De swamp be full of horrors, if you gonna survive out there you gonna have to become one as well.
Patch changes
See also
External links