Harpy Queen


Race
Harpy
Faction
Neutral (Creep)
Statistics
Hit point regeneration rate
Unknown HP/sec.
Gold Bounty Awarded
Unknown
Sleeps
Yes
Combat
Normal attack
x avg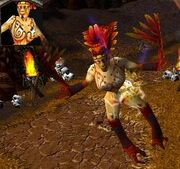 Harpy Queens are harpy creeps that can be encountered in the Barrens tileset.
One of them captured the Stonetalon wyvern flight before the Horde arrived to the Stonetalon Mountains.[1]
Notable harpy queens
Quotes
"Be warned, old fool. Stonetalon Peak is ours. Neither these brutes nor the humans will leave this place alive. Attack, my sisters!"[1]
Statistics from Warcraft III: Reign of Chaos
Level 6
750 HP
400 MP
31-41 piercing ranged damage
2 heavy armor
Statistics from Warcraft III: The Frozen Throne
2040 HP
400 MP
57-67 chaos ranged damage
4 heavy armor
Spells and abilities

Heals a target friendly unit for 400 hit points over 12 seconds.

Tosses a target enemy unit into the air, rendering it unable to move, attack or cast spells, and stopping others from attacking or casting on it.
Gallery
References
External links

Classic.Battle.net
 Warcraft III - Neutral -> Creeps -> Harpies