Harvest Key
Harvest Key
Use: Grants access to a private estate in the Chalice District any treasure within.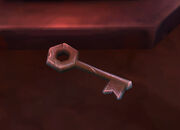 The Harvest Key is used to open The Harvest at the Abandoned Purlieu in Revendreth. This key was entrusted to Grumbles, who hid it in the area and left a note to remind himself what he did with it. Its location changes based on the note's current text. Possible locations include:
Trivia
During early alpha, this item was named Gilded Key.
Gallery
Patch changes
External links