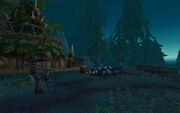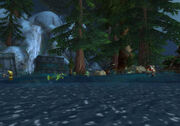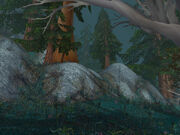 The Hatchet Hills is an area leading to the Amani Pass just southwest of Zul'Aman in the Ghostlands. The hills were once full of roaming forest trolls until Budd Nedreck's expedition came in and killed many of them, taking over the area. However many of the expedition members were captured. The remaining ones stayed outside and requested the assistance of heroes to aid them.
After the Amani forest trolls were defeated and the expedition left the area remained quiet for a time. Until the Zandalari came forth to aid the Amani. It was then the hills were occupied by the Darkspear tribe, Farstriders, and even the Silver Covenant to prevent them from growing in power.
Travel connections
Flight
NPCs

This section concerns content related to Cataclysm.
The subject of this section has been removed from World of Warcraft.
Vendors
Quest givers
Other
Notes
External links