This article's name is unofficial.

Please note that while the content is valid, this article's name is not official.
This is because no official name is available for the subject of this article. We use a descriptive name instead.
This article should not be moved unless discussed first - Remember to follow the naming policy.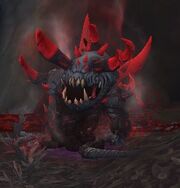 Haunt is the model name used by certain unrelated creatures that can be sha, born from the Emerald Nightmare, fel, or the Void.
Known
Blood

This section concerns content related to Battle for Azeroth.
Main article: Mawfiend
Death elemental
Main article: Death elemental
A type of death elementals looks like a haunt.
Emerald Nightmare

This section concerns content related to Legion.
Small size
Medium size
Fel
Manifestation
Main article: Manifestation
A type of manifestations looks like a haunt.
Sha
Main article: Sha#Notable
Others
Notes
The name haunt comes from their model which is called shahaunt in the game files.
The lesser haunt is based on the fleshbeast model, and the medium haunt is based on the unbound elemental models. However, the large haunt model is a unique skeleton.
Gallery
Art
Creature group
Aberration creatures