Objectives
Kill Ardo Dirtpaw.
Description
You've stumbled upon a gnoll document. The gnoll that wrote this propaganda is semi-literate:
BROTHERS OF YOWLER, HEAR DIRTPAW! DIRTPAW GIVEN ORB FROM ORCS! DIRTPAW CONTROL ETTIN THINGS! DIRTPAW CRUSH HUMIES! COME GET DIRTPAW PAW-O-GRAPH IN RETHBAN CAVE. CAVE IS WEST, HIDDEN IN CANYON!
<There's a paw print as the signature.>
<There also appears to be a bite taken out of the scroll.>
You should probably investigate.
Progress
<The orb emanates powerful magic>
Completion
<The orb hisses as you touch it.>
Notes
While killing gnolls for

 [7-30] Canyon Romp and

 [7-30] Like a Fart in the Wind, the Dirt-Stained Scroll stands a chance of dropping. The followup to Canyon Romp,

 [7-30] They've Wised Up... also directs players to Rethban, so accept and keep moving that way. The entrance to the caverns is north of the westernmost camp of the canyons at [20.1, 31.8]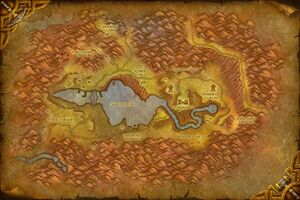 north of Lakeshire. Head to the northwest corner of the cave, kill Ardo and interact with the Ettin Control Orb.
Progression
Optional breadcrumb from: NPCs or Hero's Call Boards.
Patch changes
External links