The subject of this article could only be obtained prior to patch 8.2.5.

The in-game information in this article is kept purely for historical purposes.
Heart of the Nightwing
Mount
Use: Teaches you how to transform into an Obsidian Nightwing, allowing you to carry an ally on your back. This is a flying mount.
Requires Level 20
Requires Apprentice Riding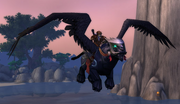 Heart of the Nightwing was originally the third special mount that players can earn only through the Recruit-A-Friend program. It first became available to players claiming their RAF reward after July 16, 2012. Obtaining this mount grants the Feat of Strength achievement
 [Friends In Places Higher Yet].
In patch 5.4.1, the Recruit-A-Friend program was updated to include a choice of one mount from all current and previous Recruit-A-Friend mounts, or one companion from event-only promotions.
Mount Journal
When you can't run, you crawl, and when you can't crawl you find someone to carry you.
Letter
The mount is mailed in-game to the character you select from Master Handler Sylvester. With the item is a unique letter written up as a shipping manifest:
Heart of the Nightwing
Grasped tightly and clutched to one's breast, this enchanted heart of volcanic glass can transform the bearer into an Obsidian Nightwing.
Notes
Prior to its being removed as a reward for Recruit-A-Friend, this mount was one of only two mounts which allowed the player to transform into a flying mount capable of carrying another player on their back, the other being the  

[

Vial of the Sands

]

.
In the past, some players have reported that this item can appear as an extremely rare find during Archaeology, although this was possibly due to a glitch.[citation needed] 
Patch changes
External links
Mount family

Dragonkin
Feathermane
Invertebrate
Mammal
Reptile
Other

Specific types

 

Cat mounts

Jeweled panthers
Lions
Saber cats

Tigers
Non consumed player-transforming items

Vendor
Drops
Treasure
Quests
Profession
Event
Other