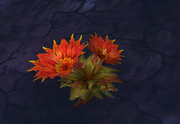 Heartblossoms, named for its deep red color, are delicate, nectar-producing flowers that grow close to the ground, and always in pairs. If one blossom is taken, the other flower begins to wilt immediately and dies soon after. It is considered very unlucky to disturb a Heartblossom without blessing it first.[1]
Fungal Moths prefer to feed on Heartblossom nectar.[2]
Source
This herb can be found in Deepholm.
As an ingredient
Alchemy
Inscription
Patch changes
References
External links
Types of

herbs

Apprentice Herbalism
Journeyman
Expert
Artisan
Master
Grand Master
Illustrious Grand Master

 

[

Heartblossom

]

Zen Master
Draenor
Legion

Battle for Azeroth
Shadowlands