Not to be confused with Hearthstone Board (Stormsong Valley).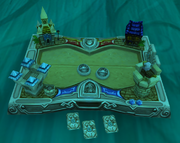 Hearthstone Board is a Hearthstone-themed toy.
Using the Hearthstone Board creates a Hearthstone game board at the feet of the player, and causes the emote "<name> throws down a Hearthstone board! Who's ready to play?" as a short sample of the Hearthstone introductory music is played. The board will fade after 1 minute, or any player can right-click it to flip the board, with the pieces scattering, and the Hearthstone logo revealed on the board's underside.
Sources
Purchased from

 Benjamin Brode in Lunarfall and Frostwall for 1000

. He is found wearing an Orc mask in Frostwall.
Trivia
This toy uses the same model as the Hearthstone boards found in the faction shrines in Vale of Eternal Blossoms: Jaina is in a strong position against Garrosh, with what appear to be two murlocs in play, and three cards still in hand.
Patch changes
See also
External links