The subject of this article was removed from World of Warcraft in patch 4.0.3a but is present in World of Warcraft: Classic.

The subject of this article does not exist on the retail realms anymore.
The categories should reflect this, and should not include retail realm categories.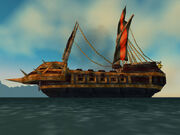 Heedless is a frigate belonging to Baron Longshore of the Southsea Freebooters, a legion of pirates who run their operations along the southeastern coast of Kalimdor. The ship's cannons are smoking from a recent battle, perhaps against Northwatch Hold, which she lies in view of.