Objectives
Use Helcular's Rod to Empower 8 Dark Rangers.
Dark Ranger empowered (8)
Provided item:
Description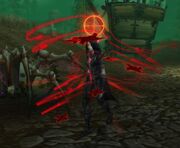 To think, I, a master of necromancy, trained by Kel'Thuzad himself, was reduced to nothing more than a corpse in a grave. Thankfully, my astute apprentice, Thaivand, managed to find a group of heroes to recover this:
<Helcular whips out his rod.>
It is through the power of the rod that I was reborn. The rod giveth and the rod taketh away!
Take it now and use it to empower our dark rangers battling the worgen in the field north of us. Renew their vigor with my rod.
Rewards
Progress
I want that rod back when you're done.
Completion
As I said, the rod giveth to our dark rangers and doth taketh away from our enemy!
Progression
Introduction and Azurelode Mine
Optional breadcrumbs:
 [7-30] Empire of Dirt or
 [7-30] Warchief's Command: Hillsbrad Foothills!
Sludge Fields
Ruins of Southshore
 [7-30] 

Trouble at Southshore

 [7-30] 

Studies in Lethality

&  [7-30] 

Green Living

&  [7-30] 

Helcular's Rod Giveth...

&  [7-30] 

Helcular's Command

Side quest:  [7-30] 

Angry Scrubbing Bubbles

,  [7-30G2] 

Trail of Filth
Purgation Isle
Tarren Mill
Alterac Mountains
Patch changes
External links