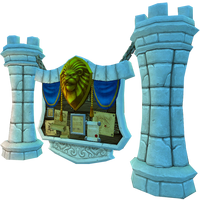 "The Alliance needs you. Answer the hero's call!"
The Hero's Call Boards offer level-appropriate breadcrumb quests for players of the Alliance to all zones. The equivalent billboards for the Horde are the Warchief's Command Boards.
Boards can be found in Stormwind City (in the Trade District and the Dwarven District), Ironforge (by the Auction House), Darnassus (beside the bank tree), The Exodar (on the wall opposite the bank and the auction house), and the Silver Enclave in Dalaran.
Locations
Quest zones
From levels 10 to 55, the Hero's Call Boards in different capital cities offer different quests in an attempt to direct players along a less continent-crossing path.
However, once players reach 60, all of the boards offer the same quests:
The subject of this section was removed from World of Warcraft in patch 6.2.0.
Dungeons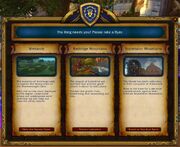 The subject of this section did not make it out of the beta stages of World of Warcraft: Cataclysm.
Gallery
Patch changes
See also
External links
 

Expansion features