Not to be confused with Hero's Rest.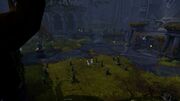 Heroes' Rest is a large graveyard as the base of Black Rook Hold. Many fallen soldiers are buried here and some still roam the grounds today. It contains the Ravencrest Mausoleum, where Lord Ravencrest is buried, and the secrete entrance into Black Rook Hold. The castle wall, originally containing the graveyard, is destroyed and opens up to the south. A small path leads Bradensbrook.
Many special mobs reside here including Theryssia, who can be summoned by reading her headstone.
Three of the night elves among the buried are Cesta Stargazer, Mandrel Nightsbane, and T'rel Moonblade, ancestors of the blood elf Valeera Sanguinar.[1]
Patch changes
References
^   [45] 

Eternal Unrest
External links