High Apothecary's Hood
Use: Carefully crate the restored artifact.
"Artifact details have already been logged in your Archaeology Journal, under the Completed Artifacts tab."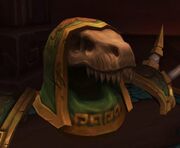 The High Apothecary's Hood is a common Zandalari archaeology artifact that requires 50 Zandalari Archaeology Fragments to solve, allowing two Keystones to be used.
History
Solved
Practitioners of alchemy among the Zandalari kept a tight society within the empire known as the "Shadra'Zan". Entrance into the guild included a ritual which would require the inductee to imbibe a potion made from their own blood. Should they withstand the effects, they were deemed worthy to learn the secrets kept within.
Patch changes
External links