High Priest Benedictus Voss is the father of Lilian Voss. Before the Third War, Calia Menethil listened to his sermons.[3] After that, he joined the Scarlet Crusade.
Following the Cataclysm, Benedictus disowned his daughter after she became undead, and when she fell into the hands of the Scarlet Crusade he ordered her execution.[4] However, Lilian escaped and would later kill her own father at the Scarlet Watch Post.[5]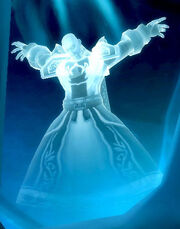 Voss's soul can be found in Desmotaeron of the Maw, where his anima is being drained by a Mawsworn Deathsinger.
Objective of
Quotes
Main article: A Daughter's Embrace#Notes
In the Maw

Benedictus Voss says: I'll kill them, I'll kill them all with my bare hands!
Notes
Patch changes
See also
References
External links