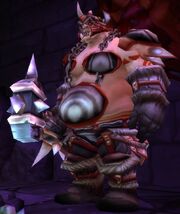 Highlord Omokk is an ogre mini-boss found in Lower Blackrock Spire. Though he appears to be the leader of the Spirestone clan, he is actually a proxy for the true leader, Urok Doomhowl.
Marshal Maxwell and Warlord Goretooth both want Omokk killed.
Dungeon Journal
Omokk rules over the spire's ogres with an iron fist. Many underlings have challenged him to single combat in the hopes of seizing the highlord's title, but all have fallen without landing a solitary blow. This mysterious phenomenon has led to rumors that dark magic is protecting Omokk.
Objective of
Abilities
  Frenzy — Increases the caster's attack speed by 60% and the Physical damage it deals by 50% for 2 min.
Strategy
Tank Omokk against a wall to negate the knockback. Apart from that Omokk is an easy tank n' spank encounter.
Loot
Patch changes
External links
Leader
Secondary leaders
Races