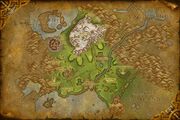 Hillsbrad Foothills is a Horde-only level 20-25 zone in southern Lordaeron and a direct followup to the Silverpine Forest storyline as part of the Undead starting experience. its progress is followed through the achievement


 [Hillsbrad Foothills Quests].
At the end of the quest chain, or as soon as players reach level 24, the Arathi Highlands storyline opens up with

 [10-30] Warchief's Command: Arathi Highlands!
Azurelode Mine
Optional breadcrumbs:

 [7-30] Empire of Dirt or

 [7-30] Warchief's Command: Hillsbrad Foothills!
The Sludge Fields
Ruins of Southshore
 [7-30] 

Trouble at Southshore

 [7-30] 

Studies in Lethality

&  [7-30] 

Green Living

&  [7-30] 

Helcular's Rod Giveth...

&  [7-30] 

Helcular's Command

Side quest:  [7-30] 

Angry Scrubbing Bubbles

,  [7-30G2] 

Trail of Filth
Purgation Isle and Alterac Mountains
Eastpoint Tower
From Nils Beerot:
From Captain Jekyll:
 [7-30] 

A Haunting in Hillsbrad

 [7-30] 

Silence of the Dwarves
Plants vs Ghouls
See also: Plants vs. Ghouls quest chain
This quest chain is doable on both Alliance and Horde characters.
Miscelaneous
These quests deal with Alterac Valley and obtaining/upgrading the Stormpike Insignia/Frostwolf Insignia
 [20-60] 

Proving Grounds

 [20-60] 

Rise and Be Recognized

(

Friendly

)
 [20-60] 

Honored Amongst the Guard

/ [20-60] 

Honored Amongst the Clan

(

Honored

)
 [20-60] 

Earned Reverence

(

Revered

)
 [20-60] 

Legendary Heroes

(

Exalted

)
 [20-60] 

The Eye of Command

(

Exalted

999/1000) - inaccessable due to removal of post-Exalted 999/1000 reputation.
Finally there's one last Alliance-exclusive quest that is an artifact from pre-Cataclysm.