Hippogryph Hatchling
Use: Teaches you how to summon this companion.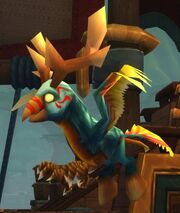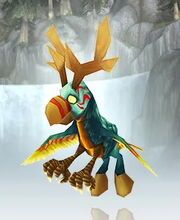 The Hippogryph Hatchling is a hippogryph companion.
Source
This item is obtained from the Thunderhead Hippogryph loot card in the Heroes of Azeroth TCG set. For information on redeeming the scratch-off code, see how to redeem a loot card.
It also has a chance to be listed on the Black Market Auction House by Landro Longshot, for an opening bid of 15,000

.
Pet Journal
After a harpy incursion in Feralas, several hippogryph nesting grounds were attacked. Hundreds of hatchlings were orphaned, and they have been entrusted to the care of the druids on Sardor Isle.
Battles
Notes
Patch changes
See also
External links
Battle pet types
Flying battle pets

Archetype of Motion

Archetype of Satisfaction

Battie

Bloodsucker Vespoid

Dusty Sporeflutterer

Enraged Poultrid

Fluttering Glimmerfly

Foulwing Buzzer

Fuzzy Shimmermoth

Gilded Wader

Helpful Glimmerfly

Hippogryph Hatchling

Larion Pouncer

Multichicken

Necroray Spawnling

Pearlwing Heron

Scarlet Proto Avian

Sinfall Screecher

Stony

Vibrant Glimmerfly

Wader Chick

Wild Etherwyrm