| | |
| --- | --- |
| | The subject of this article or section is part of WoW's Anniversary, a seasonal event that typically lasts two weeks. Once the event has run its course, this will no longer be available until next year, but there are no guarantees. |
Historian Llore is a human member of the Timewalkers investigating the Timeless Isle alongside Kairoz. He is found at the Whispershade Hollow.[64.9, 50.6]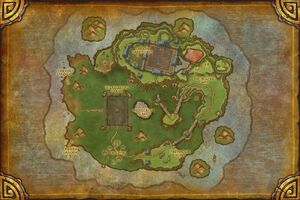 During Warcraft's Anniversary, Llore could be found in the Royal Library in Stormwind City, acting as the Alliance counterpart to Historian Ju'pa.
During

 [WoW's 15th Anniversary], Llore and Ju'pa appeared in the Caverns of Time.
Locations
Quotes
Timeless Isle
Greetings! I am Historian Llore! Everyone says I smile too much, but I don't think that's possible!
Stormwind City & CoT
Without history, there would be no future.
This island is equal parts fascinating and terrifying.
Vendor information
Quests
Anniversary
 [1-60] 

Interesting Times

 [1-60 Daily] 

A Time to Reflect

 [30-60W] 

The Originals
The subject of this section has been removed from World of Warcraft.
Authorship
Llore is the author of the following tomes:
Trivia
He is a reference to Sean Copeland, also known as Loreology, the lead historian for Blizzard's Creative Development division. Copeland uses Llore as his avatar on the social network website Twitter. Sean has two other NPCs based off of him, Sean Copeland and Seanus Copeland.
He uses Gilnean human voice lines.
Patch changes
References
External links
| Timeless Isle | Stormwind City & CoT |
| --- | --- |
| | |