For lore and his original appearance, see Hogger.
Hogger is a level 25 elite gnoll found in Stormwind Stockade.
Adventure Guide
"Convict #SC55: Hogger
Charges: Too many to list here
Imprisoning the Riverpaw leader has come at a high cost, including the partial blinding of the warden. Fearing that Hogger might escape, Thelwater has authorized the gnoll's termination with extreme prejudice."
Objective of
Abilities
Enrage  — Increases the caster's attack speed by 30% and the Physical damage it deals by 10% for 5 min.
Maddening Call  — A maddening call is unleased, dealing 114 to 126 Physical damage to all nearby enemies and leaving their melee attack, ranged attack, and casting speeds all reduced by 60% for 5 sec.
Quotes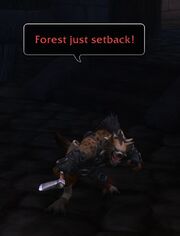 Aggro
Death

Hogger yells: Yiiipe!
Warden Thelwater runs in.
Warden Thelwater yells: This ends here, Hogger!
Warden Thelwater says: He's...he's dead?
Warden Thelwater says: It's simply too good to be true. You couldn't have killed him so easily!
Warden Thelwater says: You are truly great heroes for vanquishing the Gnoll King. People all throughout Elwynn Forest and Westfall will speak highly of your triumph for years to come. Thank you.
Loot
Related achievements
Trivia
Patch changes
External links
Dungeon final bosses

Bosses in grey were redesigned in a later expansion or removed from the game.