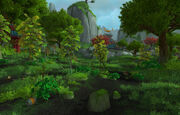 Honeydew Glade [31, 12]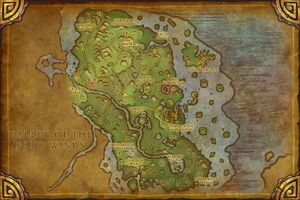 is the lightly wooded area between Honeydew Village and Thunder Hold in the Jade Forest. It is bordered by Spiritsong River to the north and turns slowly upward past Mogu ruins into Ascent of Swirling Winds to the south. An ancient road through the center of the glade leads from Honeydew Village to a small pagoda at the glade's southeastern edge. Normally inhabited by Wary Forest Prowlers, the presence of the sha due to the Horde and Alliance confict has spread to the local tigers, transforming them into aggressive Sha-Infested Prowlers.
During its entry into Pandaria, the Horde gunship Hellscream's Fist was stuck over the glade and forced to confront the Alliance troops in nearby Thunder Hold. During the evacuation of the Alliance the gunship was destroyed, crashing to the south.
Patch changes
External links