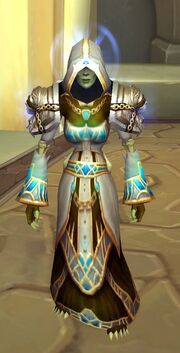 The Hooded Priestess is a human or Forsaken priestess (depending on the player's faction) who appears in Dalaran after a priest player turns in

 [100 - 110] In the Blink of an Eye. She has been sent by Alonsus Faol to recruit the priest to his cause.
Quests
  [98 - 110] 

Priestly Matters
Quotes
Spawn:
Master <name>, if I could get your attention for a moment!
Upon accepting the quest, she says:
Excellent, you can take the portal to Dalaran Crater and just fly north. He will be expecting you soon!
The Hooded Priestess bows and then despawns.
Patch changes
External links