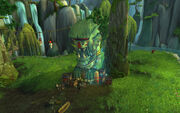 Hozen Speech is a hozen lore object found at [26.4, 28.3]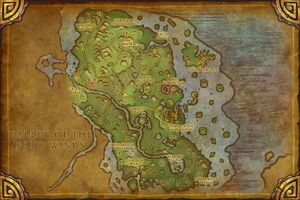 in the Fertile Copse between the Strongarm Airstrip and Camp Nooka Nooka in northwest Jade Forest.
Interacting with the lore object is one of the objectives of the Pandaria exploration achievement

 [Hozen in the Mist].
Hozen Speech
The language of the hozen is steeped in mystery. While the majority of the hozen are able to speak in a common language, they often include an assortment of other sounds and "words" that have yet to be translated by other races.
Most jinyu scholars believe these additional words to be uncharitable or offensive in nature, but the matter is far from closed.
To quote the great sage Ook Ook, "you can take the derk out of the jib, but you shouldn't put the jib in the derk."
Wise words indeed. We think.
Patch changes
External links