The subject of this article was removed from World of Warcraft in patch 7.0.3.

This includes items and quests that can no longer be obtained or are now deprecated.
The in-game information in this article is kept purely for historical purposes.
Replaced by

[

Tar Trap

]
The Ice Trap allows hunters to reposition themselves for a better shot... or, if the need arises, to run.[1]
Ice Trap is a Hunter ability learned at level 46. It provides an area that slows movement speed of enemies in the affected area by 50%. It can be used to slow enemies multiple times since you can always lead the mob over the ice slick to easily reapply the snare. This makes kiting mobs, especially multiple mobs, in circles much easier.
Improvements
Major Glyph
Requires Level 50
Tips and tricks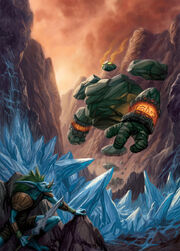 In group PvP this can be a great advantage to all of your team. Once activated its easy to notice graphic will let everyone on your team know it is possible to exploit it.
With

[

Entrapment

]

, Ice Trap will root your enemies.
This trap will activate the

[

Lock and Load

]

talent when triggered giving the opportunity for some burst damage.
Use against mobs that run in instances to slow or entrap them.
Drop a Ice Trap before a pull to prevent the adds from making it to cloth wearing quickly.
Patch changes
See also
References
External links