Main article: Northrend Beasts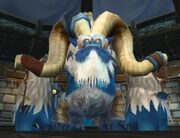 Icehowl is part of the

 Beasts of Northrend encounter in the Crusaders' Coliseum in patch 3.2.
25-player abilities
10-player abilities
Strategy
Tank should make Icehowl face the wall, so that he doesn't get knocked back by Whirl. Ranged classes and healers should spread out, so that they avoid being hit by Arctic Breath. Melee DPS should place themselves at maximum melee range or between Icehowl and the wall so that they avoid the knock back effect of Whirl. The Tank should keep his back against the wall, and is able to avoid most of the knockback by standing in the "Corner" formed by a wall pillar in the wall. Whirl will be almost immediately followed by arctic breath, so this positioning is key for melee classes to be effective in this fight.
After a while, Icehowl will go to the middle and use Massive Crash, throwing everyone to the wall, then Icehowl will emote, glaring at a random enemy, and run to the opposite side of him, preparing to use Ferocious Butt. The whole raid gains a 50% movement buff(Surge of Adrenaline)(In normal mode only), and everyone near the spot of Icehowl's target should move away. If Massive Crash doesn't hit anyone, then Icehowl crashes on Coliseum's wall, and gets a debuff that stuns him for 15 secs, increasing damage taken by 100%. If it does hit someone, a hunter should use

[Tranquilizing Shot] immediately to remove the rage effect.
After stun, tank should pick him up and repeat.
Loot
For loot, see Beasts of Northrend.
Related achievements
Quotes
Intro

Highlord Tirion Fordring yells: The air itself freezes with the introduction of our next combatant, Icehowl! Kill or be killed champions!
Trivia
Icehowl appears as a legendary card in the Grand Tournament expansion of Hearthstone. His flavor text reads: "This massive yeti just closes his eyes and charges at the nearest target. The nearest Target is a couple blocks away and has sick deals on skateboards."
Video
10-player encounter
25-player encounter
Gallery
Patch changes
External links