The subject of this article was removed from World of Warcraft in patch 5.0.4.

This includes items and quests that can no longer be obtained or are now deprecated.
The in-game information in this article is kept purely for historical purposes.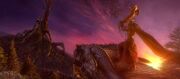 Idols were formerly druid-specific relics. Relics replace ranged weapons for druids, death-knights, paladins and shamans. They typically give significant bonuses to a single spell rather than the general stat bonus usual to ranged weapons.
Various Relics for Druids
Caster
Feral Combat
Universal
Unobtainable
These are idols that are no longer obtainable to players who do not currently have one.