For the Pet Battle ability, see

[

Immolate

]

.
Immolate

Immolate
Level 10 Destruction warlock ability
40 yd range
6% of base mana
1.5 sec cast
Burns the enemy, causing (133.2% of spell power) Fire damage immediately and an additional (432.9% of spell power) Fire damage over 18 sec.



15% chance to generate 1 Soul Shard. Chance doubled on critical strikes.

Usable by
Class
Warlock
Properties
School
Fire
Cooldown
None/Global Cooldown
Other information
Level learned
10
Related debuff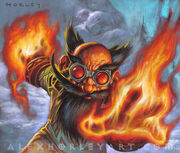 Immolate is a level 10 Destruction warlock hybrid spell spell that deals both direct damage and damage over time, with an emphasis on the latter.
Tips and tactics
When tanking mobs with your Voidwalker, save casting Immolate until the end of your DoT rotation. Not only does it have the shortest duration, but as it deals initial damage, it generates the most threat and could possibly pull the mob to you.
Patch changes
See also
External links