Imperial Decree Stele
Imperial Decree Stele
Use: Carefully crate the restored artifact.
"Artifact details have already been logged in your Archaeology Journal, under the Completed Artifacts tab."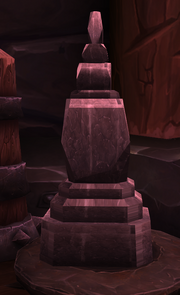 Imperial Decree Stele is a common ogre archaeology artifact, created from 45 Ogre Archaeology Fragments. One
 [Ogre Missive] may be used to solve this artifact.
Description
Assembled fragments from this stone stele place it in Talador several hundred years before the draenei arrived. It marks an ogre imperial decree to raze several orc settlements in retaliation for a number of rebellious raids against Gorian slave trade caravans. The orders were likely carried out, since the towns no longer exist, and this stone was erected to memorialize the dark deed.
Patch changes
External links