Objectives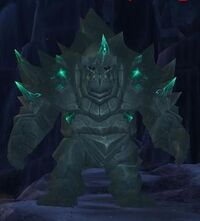 Read the Earthen Ring Proclamation to Boden the Imposing.
Provided item:

 [Earthen Ring Proclamation]
Description
Have ya seen the looming giant in the distance to the northeast? Dat is Boden the Imposing, one of Therazane the Stonemother's Stone Lords.
We be knowin' little of da Stone Lords, but Boden is not known ta be very level-headed. Sadly, he seems to be da one leadin' dis assault, so he's the one we must be confrontin'.
Take dis proclamation to him and read it aloud on behalf of da Earthen Ring. I know it be a bit of a stretch to think words will settle dis, but we have to try. Be cautious.
Rewards
Progress
Did ya confront Boden yet?
Completion
Yeah, mon... dat's about the reaction we were expectin'.
He mentioned Diamant though? If da two don't get along, perhaps this Diamant be a bit less brash den Boden. At least it's somethin'.
Let me see if I can get da earth to tell me where we might be findin' dis Diamant.
Notes
Fly northwest. One would think a huge stone giant would be hard to miss in a mostly open-space field, but... Once in range of him, land, then use the proclamation:
<Player> says: Boden the Imposing. I come on behalf of the Earthen Ring. We wish your kind no harm. We seek to repair the rift between our worlds. Why do you attack us?
Boden the Imposing yells: Hah! Did you mistake me for Diamant, <race>? Or perhaps some whimpering, complaint stone trogg who cares?
Boden the Imposing yells: If you seek peace, relinquish the World Pillar and leave Deepholm. This is our realm. Your only welcome here shall be found underneath my stone foot.
Boden stomps, knocking the player back halfway across the map.
Progression
Patch changes
External links