Objectives
Search Alther's Mill for a member of the Bravo Company.
Description
If you and Keeshan are going to defend Lakeshire, we're going to need to find his old battalion. Last I heard all of 'em - Messner, Jorgensen, Krakauer and Danforth - were captured by Blackrock orcs. Now I don't know where they could possibly be or if they're even alive, but I'd be a damned fool if I didn't ask you to try and find 'em.
Search Alther's Mill, east of here, for any clues.
Completion
Keeshan? You mean JOHNNY'S ALIVE? You bet your sweet behind I'll help, but first you gotta get me out of this damned cage.
Notes
Pick up

 [7-30] Weapons of War before exiting the town hall. Outside, Oslow and Marris both offer quests:

 [Surveying Equipment] and

 [7-30] Render's Army.
Inside the lumber mill at Alther's Mill is Messner at [47.5, 41.9]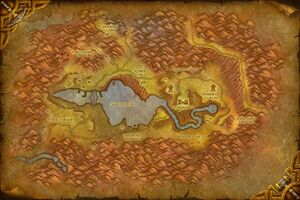 in a cage.
Progression
Optional breadcrumb from: NPCs or Hero's Call Boards.
Patch changes
External links