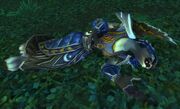 Inconspicuous Bears are worgen druids in bear form found in southern Silverpine Forest.
When killed, they revert to their natural state as a "Worgen Druid" and leave a humanoid corpse behind.
They can be found by both factions as they appear outside of the phasing as well.
Abilities
  Demoralizing Roar — Reduces the melee attack power of nearby enemies by 10% for 20 sec. 
  Feral Charge — Causes you to charge an enemy. 
  Swipe — A ferocious swipe that deals damage to the target and up to two additional nearby enemies. 
Objective of
Patch changes
External links