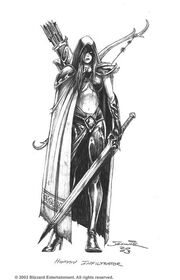 Infiltrators can be found in the forces of the Alliance, Horde, and hostile or neutral factions. They mostly appear as rogues and assassins, but spellcasters are also known to exist.
Known
Named
Unnamed
In the RPG


This section contains information from the Warcraft RPG which is considered non-canon.
Infiltrators are a select group tasked with protecting the Alliance, whether from the attacks of the Horde or by those who would attempt to shatter it from within by manipulating internal rivalries. The infiltrator is a manipulator, a charmer, and a spy who wear their weapons hidden beneath fine clothing as they dive into the dark waters of politics, diplomacy, and intrigue. Infiltrators are active throughout Alliance territories and beyond.[1][2]
Known
Notes
Gallery
Hearthstone
See also
References
Core classes
Prestige classes
Epic core classes
Epic prestige classes
NPC classes
Core classes
Prestige classes
Variant classes
Racial iconic classes
Creature classes
NPC classes