Infused Etherwyrm
Use: Teaches you how to summon this companion.
Infused Etherwyrm is found inside the Etherwyrm Cage in the back of the Desolate Hollow in the Maw during the

 [60WQ] Night Fae Assault. To open the cage, enter The Rift by using the

 [Unbalanced Riftstone] from

 [60] A Shady Place, then find the Elusive Keybinder at [19.3, 43.7]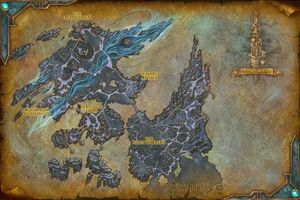 and loot the

 [Etherwyrm Cage Key] from it's corpse.
Pet journal
Infused etherwyrms can be used as portable anima batteries, but they must be trained not to flee at the sight of combat.
Battles
Tracking quests
To check whether event has taken place, copy and paste this command into the chat window:
/run print(C_QuestLog.IsQuestFlaggedCompleted(<ID>))
If a "true" appears in the chat window, event has taken place; "false" indicates the opposite.
| ID | Event |
| --- | --- |
| 64003 | Key looted |
| 64000 | Cage opened |
Patch changes
External links
NPC
Item
Pet

| Critter | Battle Pet |
| --- | --- |
| No NPC ID specified. Please edit this article and add it. | |
Battle pet types
Flying battle pets

Archetype of Motion

Archetype of Satisfaction

Battie

Bloodsucker Vespoid

Dusty Sporeflutterer

Enraged Poultrid

Fluttering Glimmerfly

Foulwing Buzzer

Fuzzy Shimmermoth

Gilded Wader

Helpful Glimmerfly

Infused Etherwyrm

Larion Pouncer

Multichicken

Necroray Spawnling

Pearlwing Heron

Scarlet Proto Avian

Sinfall Screecher

Stony

Vibrant Glimmerfly

Wader Chick

Wild Etherwyrm