Not to be confused with Injured Sailor (Nazmir).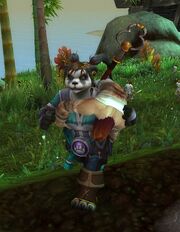 Injured Sailors can be found at the Wreck of the Skyseeker on the Wandering Isle. They are being tended to by Alliance Priests and protected by their uninjured comrades.
Objective of
Quotes
On arrival at camp, the rescued sailor will say one of the following:
Thank you for the timely rescue, <class>.

I... I am in your debt.

I owe you my life.

I'm... alive? Thank you... thank you so much!

I'm alive thanks only to you... I won't forget this.

I thought that was it... I thought I was going to die. Thank you, stranger.

I can barely breath. I'm alive thanks to you.
Patch changes
External links