"Rest and relaxation for the tired and cold -- that's our motto! Please, take a seat by the fire and rest your weary bones."
An inn is generally any establishment with an innkeeper that may serve as a binding point for hearthstones. In a broader sense, inns often contain many more defining amenities including drink and food vendors, stable masters, mailboxes, trainers, and quest givers, among others.
Most settlements on Azeroth and beyond contain an inn or tavern, and the more developed of these will have their own separate buildings for this purpose. An inn will generally act as a rest area with some form of sleeping arrangement (bed, hammock, alcove, etc.) though this may vary greatly by location and culture. Additionally, inns normally have their own atmospheric music and Blizzard has published these songs in an album: Taverns of Azeroth.
These establishments can be distinguished from bars and taverns by the presence of an innkeeper and the availability of lodgings as opposed to just consumables; many establishments may act as both inns and taverns, or either one separately.
Design and variation of inns
Inns come in a variety of styles and layouts. Generally, each race or culture has its own distinctive inn layout. For example, night elven inns tend to be large, spacious, and wooden. Inns, along with all other assets, also develop and change as new expansions are released.
In the original World of Warcraft, inns were aesthetically comfortable, welcoming places, while the inns of The Burning Crusade often seemed poorly equipped and bare by comparison, with some not even having a proper chair let alone a bed. This was in keeping with the theme of the expansion and the desolate world of Outland. In Wrath of the Lich King, happily, there were some newly-designed and large luxurious inns, a welcoming return to the feel of the original game. By the time of Cataclysm, the old inns of Azeroth once again became those of the expansion, while in Mists of Pandaria, entirely new structures and styles based around pandaren culture were introduced.
Named establishments

This section contains information that is out-of-date. Reason: Legion & BfA
Alliance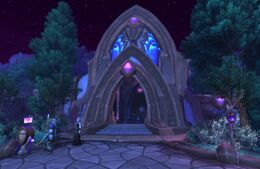 Capital cities
Eastern Kingdoms
Kalimdor
Northrend
Pandaria
Alternate Draenor
Dalaran
Horde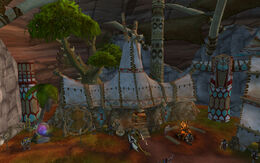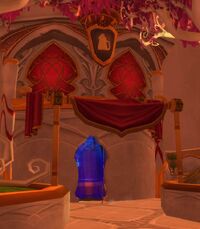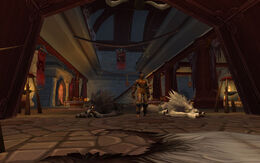 Capital cities
Eastern Kingdoms
Northrend
Alternate Draenor

Please add any available information to this section.

Dalaran
Neutral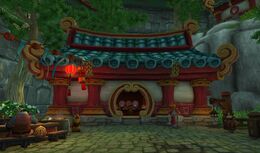 Eastern Kingdoms
Kalimdor
Outland
Pandaria
Location
Inn name
Innkeeper
Dawn's Blossom, Jade Forest
The Drunken Hozen
Peiji Goldendraft
Lin Windfur

Greenstone Village, Jade Forest
Greenstone Inn
Graceful Swan
Jade Temple Grounds, Jade Forest
The Dancing Serpent
Fela Woodear
Tian Monastery, Jade Forest
Paur's Pub
Bolo the Elder
Sri-La Village, Jade Forest
Sri-La Inn
Lana the Sea Breeze
Pang's Stead, Valley of the Four Winds
Thunderfoot Inn
Nan Thunderfoot
Halfhill, Valley of the Four Winds
The Lazy Turnip
Innkeeper Lei Lan
Stoneplow, Valley of the Four Winds
Stone Mug Tavern
Nan the Mason Mug
Zhu's Watch, Krasarang Wilds
Wilds' Edge Inn
Rude Sho
Marista, Krasarang Wilds
Marista's Bait & Brew
Cranfur the Noodler
The Spring Road, The Veiled Stair
Tavern in the Mists
Tong the Fixer
Binan Village, Kun-Lai Summit
Binan Brew & Stew
Puli the Even Handed
The Grummle Bazaar, Kun-Lai Summit
The Two Fisted Brew
Li Goldendraft
One Keg, Kun-Lai Summit
The Lucky Traveller
Chiyo Mistpaw
Zouchin Village, Kun-Lai Summit
North Wind Tavern
Liu Ze
Soggy's Gamble, Dread Wastes
The Chum Bucket
San the Sea Calmer
Mistfall Village, Vale of Eternal Blossoms
The Golden Rose
Bartender Tomro
Dalaran
Warcraft III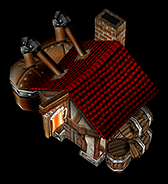 Main article: Tavern (Warcraft III)
In Warcraft III, a tavern/inn was a place from which neutral heroes were hired and could be revived instantly for a price.
In the RPG

This section contains information from the Warcraft RPG which is considered non-canon.
Poor accommodations at an inn amount to a place on the floor near the hearth, plus the use of a blanket. Common accommodations are a place on a raised, heated floor, the use of a blanket and a pillow, and the presence of a higher class of company. Good accommodations are a small, private room with one bed, some amenities and a covered chamber pot in the corner.[1]
Notes and trivia
Gallery
See also
References
External links