Inner Sanctum (Siege of Orgrimmar)
For other uses, see Inner Sanctum.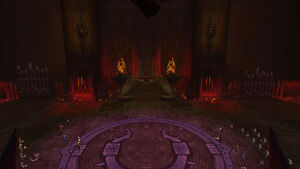 The Inner Sanctum is Garrosh's private chamber within the Underhold. He has passages within his chamber for Kor'kron to come in, in case of any intrusions. Hanging from the ceiling is the heart of Y'Shaarj, dripping with blood. Garrosh uses the heart to empower himself and his new weapon.
Patch changes