For other uses, see Inner Sanctum.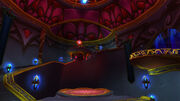 The Inner Sanctum is where the Orb of Translocation leading to Undercity can be found. It is inside Sunfury Spire in Silvermoon, and is reached by a ramp in the main audience chamber.
Travelers using the Orb of Translocation in the Ruins of Lordaeron above Undercity arrive on a floating platform in the Inner Sanctum, and enter Silvermoon City through the throne room.
Gallery