The subject of this article was removed from World of Warcraft in patch 5.0.4.

This includes items and quests that can no longer be obtained or are now deprecated.
The in-game information in this article is kept purely for historical purposes.
For lore and information about the Western Plaguelands encounter, see Instructor Malicia.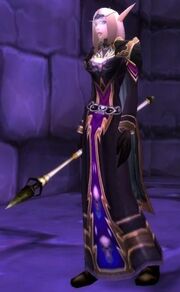 Instructor Malicia is a level 43 elite high elven mini-boss in Scholomance.
Abilities
Call of the Grave - Inflicts 20 Shadow damage to nearby enemies after 15 sec.
Corruption - Corrupts nearby enemies, inflicting Shadow damage every 3 sec. for 15 sec.
Flash Heal - Calls upon Holy magic to heal an ally.
Heal - Calls upon Holy magic to heal an ally.
Renew - Heals an ally every 3 sec. for 15 sec.
Slow - Increases the time between nearby enemies' attacks and casting time by 50% and slows their movement by 60% for 6 sec.
Strategy
To defeat her, use warlocks, hunters and priests to drain her mana so that she will have no choice but to melee with her staff.
Loot
Instructor Malicia has a chance to drop one of the following items. It is not guaranteed, however, that she will drop anything at all.
In Hearthstone

This section contains information exclusive to Hearthstone and is considered non-canon.
Malicia's appears as a legendary Warlock/Demon Hunter card in the Scholomance Academy expansion for Hearthstone. Her flavor text reads: "If you value your life, don't call it a "soft science."""
Patch changes
External links