Objectives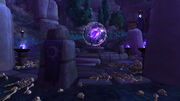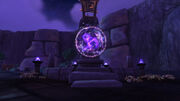 Use the Fragment of Anguish at the main doorway. Then destroy the Mark of Darkness, Mark of Shadows, and Mark of Anguish.
Provided item:

 [Fragment of Anguish]
Description
Rulkan's gift to you, the Fragment of Anguish, will allow you to pass into the fortress unhindered. Go up these stairs to the doorway, then use the fragment to enter the compound.
Once you are inside, you will find three altars powering the magical barrier around their stronghold.
Destroy these runes, and Yrel and I will be able to join you in finding Ner'zhul.
On accept:
Prophet Velen says: With the keystone, you will be able to pass through, alone. Once inside, deactivate their shields and we will join you.
Rewards
Progress
Is it done?
Completion
<You hear Prophet Velen's voice in your mind.>
Good work, <name>! The barriers are down. We are on our way.
("Prophet Velen: Good work.")
Gains
Notes
Pick up

 [10-40] On the Offensive,

 [10-40] Harbingers of the Void,

 [10-40] The Great Salvation, and

 [10-40] Across the Stars before heading in.
Run up the stairs and interact with the main doorway. Go through the entry building. Take a left to find the Mark of Shadows. Go a bit further to find the Essence of Shadow. Kill one of the Shadowmoon Prophets to attack it. Turn around and find the Mark of Anguish on the opposite side of the door. Past it is the Essence of Darkness over a hole to the lower level. Further west up the hill is the Mark of Darkness. That will complete this quest automatically.
Progression
 [10-40] 

Into Twilight

Complete both:

 [10-40] 

The Clarity Elixir

 [10-40] 

The Fate of Karabor

 [10-40] 

Going Undercover

 [10-40] 

Escape From Shaz'gul

 [10-40] 

Chasing Shadows

 [10-40] 

Ancestor's Memory

 [10-40] 

Darkest Night

Optional side quest:  [10-40] 

Rulkan

Complete all of:

 [10-40] 

Into Anguish

 [10-40] 

The Dark Side of the Moon
Patch changes
External links