This article's name is unofficial.

Please note that while the content is valid, this article's name is not official.
This is because no official name is available for the subject of this article. We use a descriptive name instead.
This article should not be moved unless

discussed

first - Remember to follow the naming policy.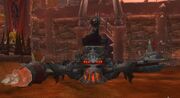 Iron juggernauts are scorpid-like combat mechs.
Known
As a mount
Main article: Kor'kron Juggernaut
The
 [Kor'kron Juggernaut] drops from Garrosh Hellscream in Siege of Orgrimmar on mythic mode.
As a hunter pet
These can be constructed with drops from the Iron Juggernaut boss and the
 [Blackfuse's Power Core], which can be obtained only by hunters.
Creature group
Mechanical creatures