For the quest, see   [11] 

Ironband's Compound

.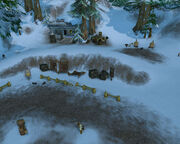 Ironband's Compound lies south of Helm's Bed Lake in eastern Dun Morogh, and is a base of operations for a band of Dark Iron dwarves who readily assault anyone unfortunate enough to wander too close. It was formerly inhabited by Sturgy Ironband.
Warriors come to the compound in order to aid a fallen dwarf and secure evidence of the Dark Irons' presence for Ironforge in


 [11] Ironband's Compound.
External links