Ironforge Ram
Not to be confused with Stabled Ironforge Ram.
Ironforge Ram
Mount
Use: Teaches you how to summon this mount.
Alliance Only
Requires Level 40
Requires Journeyman Riding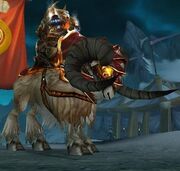 Source
Ironforge Ram can be purchased for 100

from

 Derrick Brindlebeard <Ironforge Quartermaster> at the Argent Tournament. You must either be a dwarf or have completed

[Champion of Ironforge] to gain access to this vendor.
Mount Journal
Wildhammer Fact Checker claims that this specific breed was the first type of ram domesticated by the dwarves when they settled in Dun Morogh.
Patch changes
Patch 3.1.2 (2009-05-19): Model updated, and n ame changed from Swift Ironforge Ram. The old model can be purchased for 500 5 as  

[

Swift Violet Ram

]

.

Patch 3.1.0 (2009-04-14): Added.

External links
Mount family

Dragonkin
Feathermane
Invertebrate
Mammal
Reptile
Other

Specific types