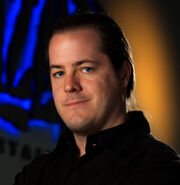 J. Allen Brack is the former president of Blizzard Entertainment.[1] He was originally the Executive Producer and Vice President for World of Warcraft.[2][3]
Official
As the executive producer on World of Warcraft, J. Allen Brack is responsible for coordinating the efforts of the game's development team as it creates new content to keep the experience fresh and exciting. This involves overseeing all aspects of the project and managing the production of patches and expansions from initial conception through release.
Brack started at Blizzard Entertainment in January 2006 as a senior producer in charge of content, playing a major role in the creation of new zones, dungeons, and quests for World of Warcraft's first expansion pack, The Burning Crusade. Prior to joining Blizzard, he worked at Origin Systems, Inc. on the Wing Commander franchise and then at Sony Online Entertainment LLC on Star Wars Galaxies.
In his spare time, Brack enjoys playing a wide variety of games, practicing martial arts, and reading.[3]
Career
Brack began working on online games in 1999.[4] He worked as producer for Star Wars Galaxies[5] before joining Blizzard in 2005 to work on World of Warcraft[6] as a producer.[7] By 2008, Brack had become Production Director for World of Warcraft.[8] In February 2014, he became Executive Producer and Vice President for World of Warcraft.[2]
On October 3, 2018, Activision Blizzard announced Brack as the new president of Blizzard Entertainment succeeding Mike Morhaime, who would remain a strategic advisor to the company for a period of time.[1][9]
In 2021, he was named in a lawsuit by the State of California against Activision Blizzard[10] over failure to appropriately address reports of sexual harassment. In response, he stepped down from his leadership role. Jennifer O'Neal and Mike Ybarra would become co-heads of Blizzard.
Notes and trivia
References