Objectives
Slay 5 Riverpaw Mystics, 5 Riverpaw Taskmasters and Jango Spothide.
Description
South of here is an area of Westfall known as the Dust Plains. From what we know the gnolls of the region have made the Dust Plains their unofficial capital. As with any capital, there exists a leader at the heart. If we are to put an end to these attacks, we must track down the gnoll in charge and end him.
Venture forth into the Dust Plains, find the gnoll leader, Jango Spothide, and kill him. Take out any other gnolls that get in your way.
Rewards
You will also receive:
Progress
Have you found Jango?
Completion
Excellent work, <name>. It will take the Riverpaw weeks to recover from the blow you just dealt. Please take an item of your choosing as a reward for what you have done.
Notes
Before heading out to kill gnolls, pick up the

 [5-30] Find Agent Kearnen chain before heading out. On the way back during

 [5-30] Big Trouble in Moonbrook, kill the gnolls required to save a trip.

 Jango Spothide is in the ruins of a house due west of Mortwake's Tower at [62.2, 76.4]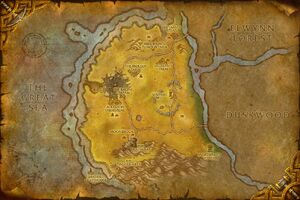 .
Progression
Optional breadcrumbs:

 [5-30] Furlbrow's Deed,

 [5-30] Hero's Call: Westfall!
Patch changes
External links