Tigole

Role
Lead Game Designer (World Design)

Most recent posts on WoW Forums

"Any references to "hoof to the face" need not be included. [1]"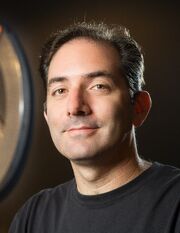 Jeffrey Kaplan (alias Tigole) is a former Lead Game Designer at Blizzard Entertainment, formerly responsible for world design of World of Warcraft (and subsequent expansions), including "quests, outdoor zones, dungeons, raids etc."[1] He was the lead designer for Overwatch.
He was a part of Team 4.
On April 20, 2021, it was announced that Kaplan was leaving the company and Aaron Keller would be his successor as Game Director for Overwatch.[2]
History
Jeff was hired by Blizzard because of his status as Tigole, guild leader for Legacy of Steel on The Nameless server of EverQuest. The guild had many world-first raid kills, and is attributed to helping shape EverQuest and the MMO genre in general towards extreme emphasis on endgame content. The guild was formerly run by Rob Pardo, a long-time Blizzard employee and developer on Diablo II and Warcraft III. He was invited to Irvine to the Blizzard campus but wasn't aware of what Blizzard was at the time. Pardo advised him to check the Blizzard jobs page the next day, where he found an offer for lead quest designer. The job required a degree in creative writing, which Kaplan possessed.[3] He joined Blizzard and began working on World of Warcraft in May 2002[4][5][6] as one of the original two Quest Designers, the other being Pat Nagle.[5][7] Kaplan briefly served as a playtester on Warcraft III, which shipped in July the same year, before going back to working on WoW.[5] In addition to designing quests, he also became one of the point people on dungeon design after presenting his idea of mob placements in the Deadmines to the rest of the team.[4]
On February 12, 2009, Jeff announced that he was leaving WoW to work on Titan.[8] He is currently the game director of Overwatch.[9]
In an "Ask Me Anything"-style thread in the Overwatch subreddit on March 13, 2017, Jeff revealed that he left WoW because he had been "feeling very fatigued after 6.5 years of working on WoW", while Titan presented a new challenge.[10]
In-game references
Trivia
As a player, his favorite genres are FPS and MMO.[11] Before joining Blizzard, Kaplan spent a lot of time creating custom maps for games like Duke Nukem and especially Half-Life, which taught him that making games was not just a creative process but also a very technical one. In contrast, he considers himself to be "really terrible" at RTS games even though he loves playing them.[5]
According to Mark Kern, Kaplan was known online during his time as an EverQuest guild leader for being fairly aggressive, demanding of his teammates, and almost mean at times, in sharp contrast to his nice, soft-spoken real-life personality. When he began working at Blizzard, Kaplan kept apologizing during conversations, to the point where the other developers created a "sorry jar" where they would put a small amount of money whenever Kaplan said "sorry" (they would subsequently use the money to go and buy beer).[12]
The first thing Kaplan added to World of Warcraft was some of the earliest quests in Westfall.[4][7]
The most notorious World of Warcraft quest Kaplan created is likely the infamous original version of  [40] 

The Green Hills of Stranglethorn

,[5][13][14][15] which he himself has described as "the worst WoW quest ever made".[5] Kaplan—who is a huge fan of Ernest Hemingway—was responsible for creating Hemet Nesingwary and wanted to write a short story about the character, but he didn't believe that anyone would want to read it if he just put the story in its entirety into the game.[4] Instead, he decided to strew the pages of the short story around Stranglethorn Vale and make them tradeable in the hope that this would create an entire economy and social dynamic for players trying to complete the quest.[4][5][13][14] By his own admission, however, all he succeeded in doing was "annoying everybody and putting a really crappy quest into World of Warcraft".[4] According to Kaplan, somebody at Blizzard brings up The Green Hills of Stranglethorn to him at least once a week to point out how horrifically bad it was, and it's become a talking point in Blizzard history of what not to do.[5]
The Legacy of Steel - Fine Weaponry shop in Stratholme is named after his former EverQuest guild.
References
External links

Wikipedia