Jenafur
Use: Teaches you how to summon this companion.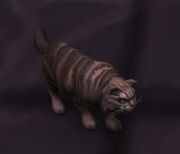 The Jenafur is a cat companion pet. It belongs to Amara Lunastar. Acquire the cat by petting Jenafur in the Opera Hall of Return to Karazhan. See the Riddle of Jenafur for more information.
Pet Journal
This cat is known for her lies, ignore her sweet meows.
Battles
Whispers and emotes
Jenafur has some perhaps unsettling whispers along with some normal emotes:
Jenafur whispers: Feed me souls.
Jenafur whispers: Only blood can quench my thirst.
Jenafur whispers: Your eyes look tasty.
Jenafur whispers: Your flesh smells delicious.

Jenafur meows loudly!

Jenafur stares at something intently.

Jenafur purrs.

Jenafur meows.
Patch changes
External links
Battle pet types
Beast battle pets

Archetype of Cunning

Archetype of Discovery

Archetype of Predation

Bloodfeaster Spiderling

Blushing Spiderling

Copperfur Kit

Corpulent Bonetusk

Goldenpaw Kit

Green Viperid

Jenafur

King Viperid

Momma Vombata

Red Viperid

Rosetipped Spiderling

Ruby Baubleworm

Rustfur Kit

Sable

Tarachnid Ambusher

Tarachnid Stalker

Topaz Baubleworm

Tunneling Vombata

Turquoise Baubleworm

Verdant Kit

Viperid Menace

Vombata Pup