Joining the Hunt (Townlong Steppes)
Objectives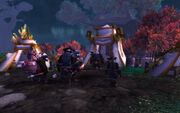 Ride with Taran Zhu, Taoshi, and Lao-Chin to Rensai's Watchpost.
Description
We are one stronger. Your help is invaluable.
Let's move on westward to Rensai's Watchpost to find the last member for our party.
Rewards
Completion
We are close. I can feel the unnatural hatred surging.
It's a testament to the training of the Shado-Pan that the forces here have not been consumed by its influence.
Gains
Notes
On accept:
The three mount up and start riding west.
Taran Zhu says: The crossroads is not far. Let us seek our last member there.
Taoshi says: Is it to be Hawkmaster Nurong then?
Taran Zhu says: Yes. We'll need his expertise with a crossbow when the final battle comes.
Lao-Chin the Iron Belly says: My men speak highly of this Nurong. It will be good to finally meet him.
They reach Rensai's Watchpost.
Taran Zhu says: Good to see you well, Rensai. We're here for Hawkmaster Nurong. Where can we find him?
Rensai Oakhide says: Well met, Lord Zhu. he's with the rest of my men, holding the line at Farwatch Overlook.
Taran Zhu says: Farwatch Overlook? I've heard no reports of mantid in the chasm below.
Rensai Oakhide says: No, not the chasm. Fliers. In numbers like we've never seen.
Taran Zhu says: Taoshi, the Sha of Hatred is close. Find it and report back to me.
Taoshi says: At once, Lord Zhu.
She turns and takes off.
Taran Zhu says: <Name>, help at Farwatch Overlook and then bring Nurong back to us here. Our final confrontation approaches swiftly.
Turn in to Taran Zhu. Both he and Rensai offer quests.
Progression
Optional breadcrumb:

 [89] Joining the Hunt
Patch changes
External links